layer chicken cage of poultry equipment
Packaging:

according to customer requirement.

Brand:

BY

Place of Origin:

Hebei, China (Mainland)
Product Description
Baiyi Brand Design Chicken House Automatic System.
With the development of times and the fast requirement for egg, more and more farmers   need to change their breeding condition. Baiyi company develop and product new design automatic poultry equipment to meets the needs of farmers.
You only press the button, the machine will start working.  5 - 10 minutes / feeding time.  The feeding machine power : 5 kw.  Voltage: 380 V.
auto feeding system including:  one main machine, one feed hoist,  one feed conveyor.
auto feedng sytem feature:
1) mechanical transmission device operation smoothly, low noise, long service life,
2) feeding's charging and dispersation process all adopt the automatic control and prevent the waste of feed;
3) the large-span beam parts adopt arch structure, it has high bearing capacity, compression deformation small features. Currently the largest span beam's
whole frame (14 meters), can satisfy the use requirement of all kinds of henhouse;
4) one-time investment, save time, save labor, save feed, greatly improving the mass breeding benefit.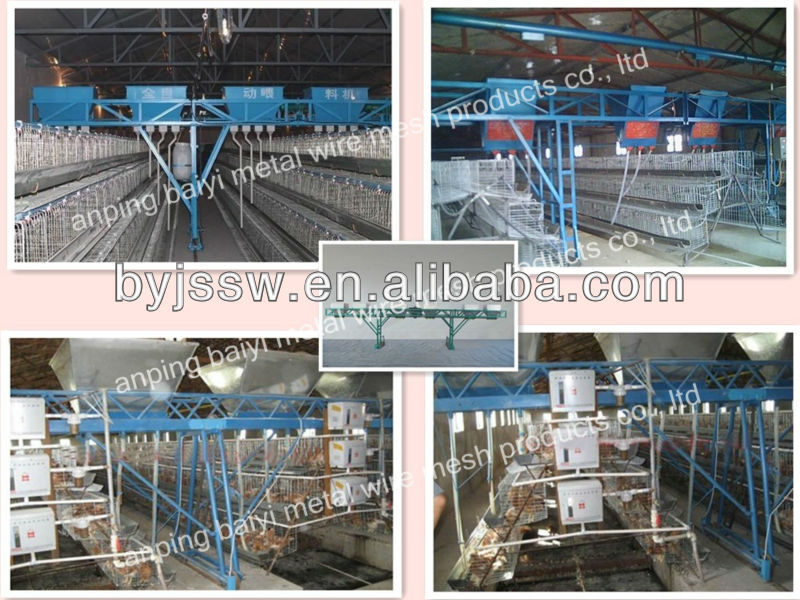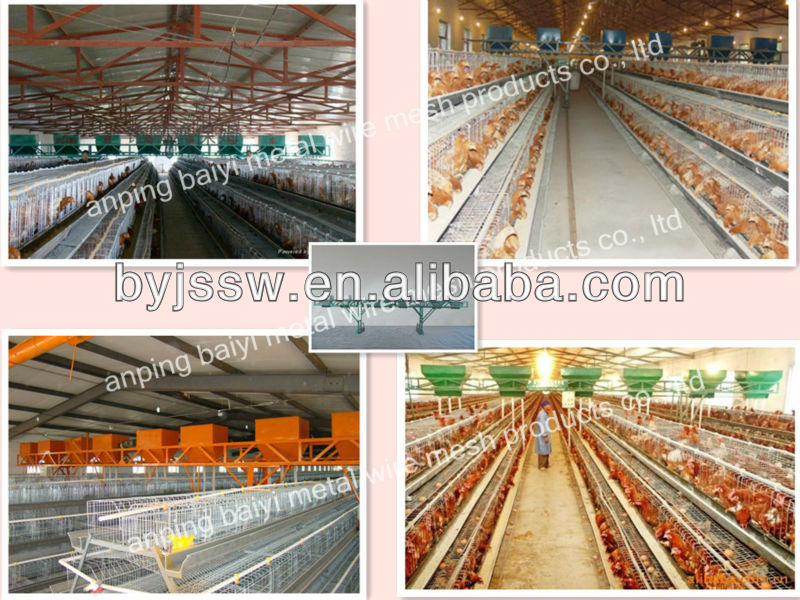 2. Automatic cleaning dung system.
It including one main machine, Corner wheel, scraper blade.
In geneaal the dung groove width: 1.8 meters,  the height: 30 cm - 40cm.
This type scraper clean dung machine is mainly used for ladder type chicken cage  each machine can be used for 2-3 column dung groove, scraping the dung plate size according to dung groove size, 4 layers cage standard dung groove width is 1.8 meters, dung scraping width : 1.7 meters.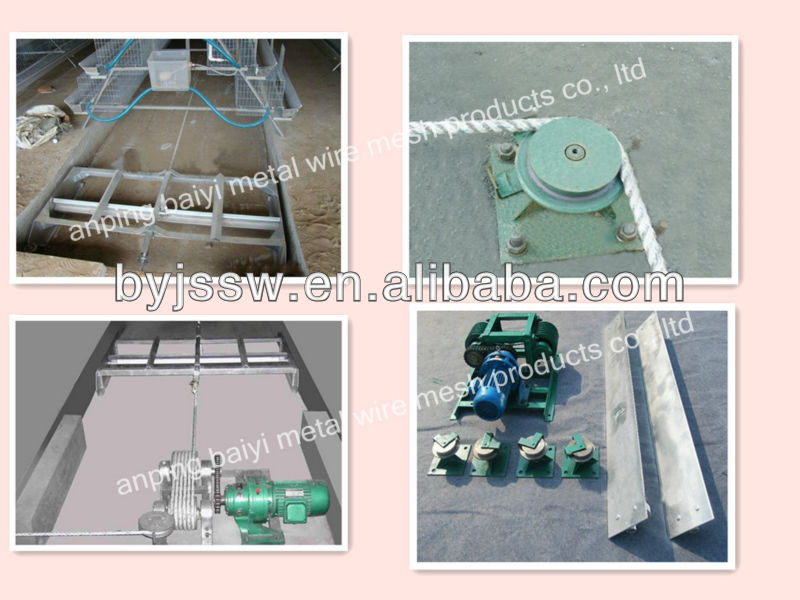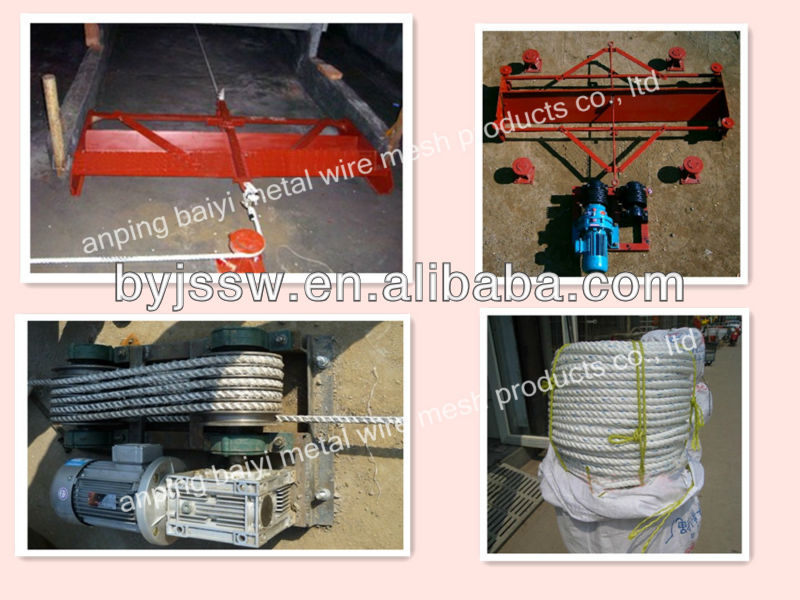 3. Auto cooling, Fan ventilation system.
one side of one chicken house is fan for ventilation.
Installed in the henhouse window outside, generally choose the tuyere, go toward outside convulsions, take smell gas
In general, the fan size:
0.8m*0.8m*0.37m
0.9m*0.9m*0.37m
1.1m*1.1m*0.37m
1.38m*1.38m*0.37m
1.53m*1.53m*0.37m
1.75m*1.75m*0.37m
Feature: Less investment, Low consumption, Cooling effect is remarkable,  fresh and moist air.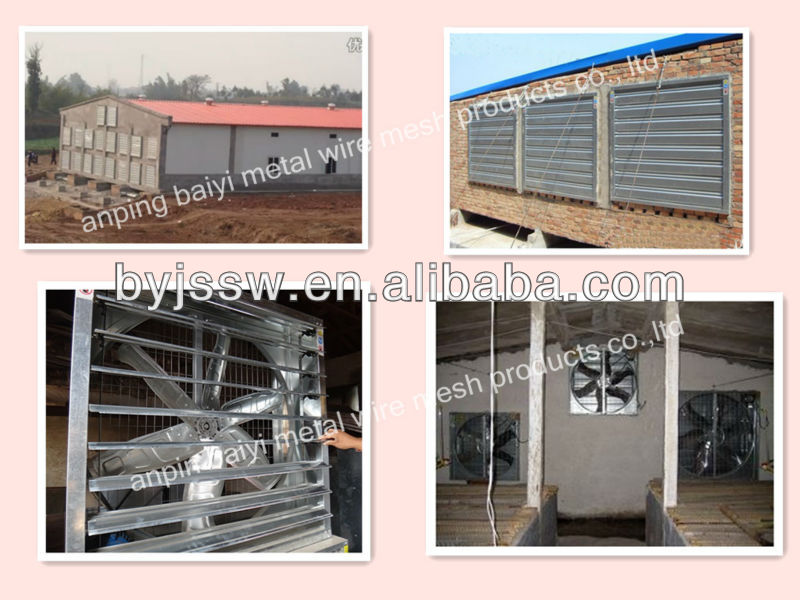 4. Automatic cooling, wetted curtain system.
curtain cooling system taken by submersible pump make water circulation work in honeycomb of spray formed on a wall of water, when the air through the wall into the mix with water, enter indoor air after moderate evaporation and cooling, work with fan,  the indoor temperature can be made immediately to 5-10 ° C above the obvious effect.
curtain cooling system with high efficiency, energy saving, environmental protection, health, in the aim of scientific ideas, make full use of natural physical phenomena and design. Its advantage is less investment, efficiency, saving more than 80%, ventilation, cooling in the integration of environmental protection products.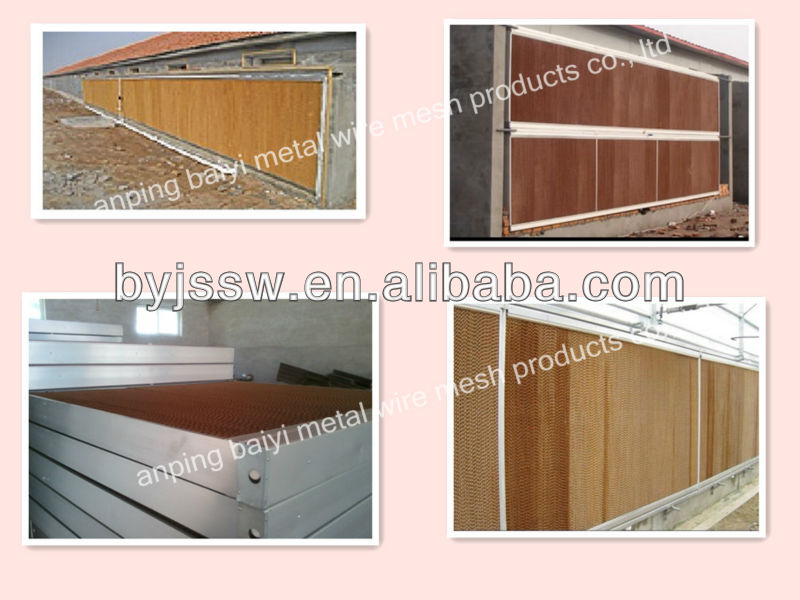 5. Automatic drinking sytem.
The water tank link with water pipe,  water pipe link with nipple drinker.  chicken can drink water. The water tank is about 10-15 liter.  It can make the water outflow constantly.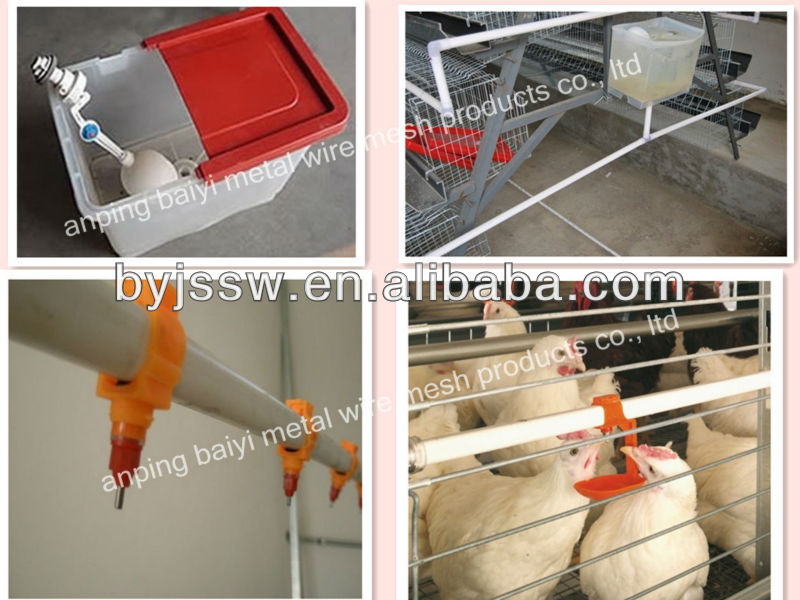 We can design your henhouse. Welcome to your inquiry and asking !
Product Categories : Chicken Cage and Equipment > Fan